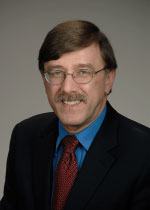 Charles R. Dearolf, Ph.D.
Director of Program Development and Support
B.A., The Johns Hopkins University, 1981
Ph.D., The Johns Hopkins University, 1986
Dr. Charles Dearolf came to the NIH Office of Intramural Research (OIR) in 2008 as an Assistant Director and member of the senior leadership team. His primary responsibilities are to facilitate NIH-wide programs and interactions, and he has been instrumental in developing the new Lasker Clinical Research Scholars Award program and the intramural NIH Early Independent Scientist program. He manages internal intramural funding programs and coordinates the OIR's nomination of intramural investigators for outside awards and prizes. Chuck also works closely with the NIH Office of Intramural Training and Education, the institute-based training directors, and the Fellows Committee on issues concerning postdoctoral training, mentorship, and work–life concerns, as well as with NIH extramural administrators on policy development.
Chuck received his Ph.D. degree in developmental genetics from Johns Hopkins University in 1986, and completed postdoctoral research at the California Institute of Technology. From 1991 through 2005, he served on the faculty of Harvard Medical School, as an Assistant Professor at the Dana-Farber Cancer Institute and then Associate Professor at the Massachusetts General Hospital. His research used the fruit fly Drosophila melanogaster as a model genetic organism to study molecular mechanisms regulating cell proliferation and differentiation. He developed high-throughput technologies for the generation and recovery of targeted gene mutations, thereby improving methods for the identification of gene function. He came to the NIH from the Boston area in 2005 and held several positions as an extramural administrator before joining the OIR.
This page was last updated on Wednesday, August 4, 2021