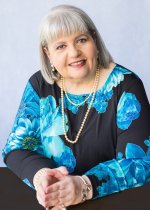 Arlyn García-Pérez, Ph.D.
Director of Policy and Analysis
B.S., Massachusetts Institute of Technology, 1979
Ph.D., Michigan State University, 1984
Dr. Arlyn García-Pérez came to the OIR in 1999. Her primary role as Director of Policy and Analyses is as the lead for the NIH Intramural Research Program (IRP) personnel policy development and exceptions review. She also is the lead for review of all IRP faculty appointments, including the management and coordination of peer-review bodies such as the NIH Central Tenure Committee (CTC) and its advisory panels, the Senior Scientist/Clinician Review Committee (SSCRC), and the Title 42(f) Peer Review Committee. Arlyn is the primary OIR coordinator for the required attendance by the DDIR or his designee to all Board of Scientific Counselors and Site Visit reviews of all IRP principal investigators. She is the OIR lead liaison to the Division of International Services (DIS), ORS, and to the policy components of the Office of Human Resources at NIH.
Arlyn was born in La Habana, Cuba, and emigrated to the United States (Puerto Rico) shortly thereafter. She received a B.S. in 1979 from MIT in Cambridge, Massachusetts where she majored in molecular and cellular biology. She received her Ph.D. in Biochemistry in 1984 from Michigan State University (MSU) in East Lansing. Immediately after receiving her Ph.D., she earned an individual research fellowship to pursue postdoctoral studies at the NHLBI Laboratory of Kidney and Electrolyte Metabolism (LKEM). In 1992, Arlyn was tenured as an independent Senior Investigator. She became Chief of the Osmotic Regulation Section at the LKEM in 1997. Her independent research career concentrated on discovering the molecular and cellular mechanisms by which diverse organisms, from bacteria to plants and animals, adapt to a high-salt environment. She discovered that the universally utilized adaptation mechanism to tolerate a high-salt environment, accumulation of organic osmolytes, is mediated through transcriptional regulation of specific genes. She and her collaborators cloned and characterized the genes and worked to define the specific mechanisms by which extracellular high salt induces expression of these genes and what other cellular factors and signals modulate this expression (gene regulation and signaling studies). In 1997, Arlyn became the first woman to receive the Distinguished Alumnus Award from the Department of Biochemistry and Molecular Biology at MSU. In 1998, she was the first recipient of the Young Investigator Award of the American Physiological Society's Renal Section for "excellence in renal research." She has authored more than 50 peer-reviewed publications and also has been a member of editorial boards and a reviewer for prestigious peer-reviewed professional journals.
Arlyn's dedication to a diverse scientific workforce and mentoring of the next generation of scientists has been recognized with the most prestigious NIH and national awards, including a 2001 NIH Director's Award for designing and implementing the NIH Academy pilot, a post-baccalaureate research training program to develop biomedical research scientists and other health professionals dedicated to the elimination of health disparities. In 2003, she received the single, yearly NIH Office of the Director's Equal Employment Opportunity Award "for tireless, outstanding efforts to improve the diversity of the NIH scientific staff by recruiting and mentoring trainees."
This page was last updated on Wednesday, August 4, 2021