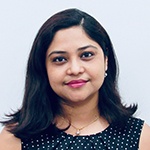 Taraswi Banerjee, Ph.D.
B.Sc., University of Calcutta, India, 2002
M.Sc., University of Calcutta, India, 2004
Ph.D., Indian Institute of Chemical Biology, India, 2010
Dr. Taraswi Banerjee is the Assistant to the Agency Intramural Research Integrity Officer (AIRIO) [contractor]. In this role, she provides analytical and technical support to the AIRIO for resolution of research misconduct allegations and authorship disputes involving intramural research, and for promoting research integrity within the NIH Office of Intramural Research (OIR).
Taraswi earned her doctorate in cancer biology from the Indian Institute of Chemical Biology, Kolkata, India. She then completed a short pre-doctoral training at the Feinberg School of Medicine at Northwestern University, Chicago, Illinois studying transcriptional and epigenetic regulation in prostate tumorigenesis. Taraswi completed a successful NIH-funded postdoctoral training from 2012-2017 at the National Institute on Aging (NIH/NIA) studying the role of the DNA unwinding enzymes, RecQ Helicases in DNA damage in different disease models with accelerated aging and cancer. Taraswi served as a contractor Scientist Investigator in the Division of Investigative Oversight in the HHS Office of Research Integrity (ORI) from 2017-2019 during which she provided oversight over research misconduct cases involving biomedical research that were funded by grants from the U.S. Public Health Services (PHS) and when appropriate made findings of Research Misconduct and propose administrative sanctions. At ORI she interacted with Research Integrity Officers (RIOs) from PHS-funded research Institutes and Universities and provided them guidance and support for ongoing cases. As part of her duties she also performed forensic image analysis and assessed allegations that came to ORI from Complainants and Whistleblowers regarding potential research misconduct.
This page was last updated on Friday, August 6, 2021