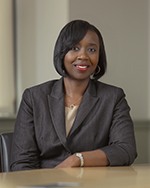 Nadine Fonrose, M.A.
B.A., University of Maryland, Baltimore County, 1996
M.A., Bowie State University, 2001
Ms. Nadine Fonrose oversees management support services for the Office of Intramural Research staff, including budget formulation and execution and the management of personnel, contracting, information systems, procurement, space, and travel. She directs and supervises staff who provide for the daily operations of the OIR Administrative Office in support of the various OIR program offices, ensuring adherence to NIH and OIR policies and objectives. She also develops and promulgates policy, procedures, and other guidance relating to the administrative management of the OIR.
Nadine's responsibilities include administering for the OIR numerous appropriated and complex budgets, such as that for the Central Services Advisory Committee, the Service and Supply Fund, and the Management Fund, in addition to the OIR Appropriated budget. As such, she provides direction and guidance on matters related to finance and personnel management and serves as the technical authority and focal point to Dr. Michael Gottesman, DDIR. Nadine also administers the employee incentive program budget and advises managers on the use of award programs based on related policies and program objectives.
Nadine has worked at the NIH since 1994. Prior to moving to the OIR, from 1999 to 2001 she was the administrative officer for the Cancer Diagnosis Program and the Biometric Research Branch of the NCI Division of Cancer Treatment and Diagnosis, where she had the responsibility of providing and obtaining all required management support services.
Her accomplishments have been recognized by the NIH through the numerous awards she has received, including: the NCI Customer Service Award in 2001 "in recognition of superior customer service in advancing science at the NCI;" a NIH Award of Merit in 2003 "for creating effective administrative tracking systems and providing outstanding support as the Senior Administrative Officer in the Office of Intramural Research;" a NIH Director's Award in 2006 "for consolidating, coordinating, and leading administrative support for the ever-changing needs of the Office of Intramural Research;" a Patriotic Employer Award in 2007 from the National Committee for Employer Support of Guard and Reserve for contributing to national security and protecting liberty and freedom by supporting employee participation in America's national guard and research force; and an OD Honors Award in 2013 "for the outstanding implementation of the new budget formulation process for the Office of Intramural Research appropriated funds."
This page was last updated on Wednesday, August 4, 2021