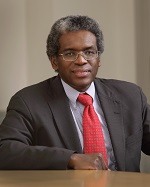 Roland A. Owens, Ph.D.
Director of Research Workforce Development
B.S., University of Maryland, Baltimore County, 1979
Ph.D., The Johns Hopkins University, 1985
Dr. Roland Owens came to the NIH Office of Intramural Research in 2008. His primary duty as an Assistant Director is to facilitate and enhance principal investigator recruitments within the Intramural Research Program. As a logical offshoot of this primary duty, he is the principal OIR senior staff member responsible for promoting diversity and inclusion in the biomedical research workforce, as well as promoting mentorship at the NIH. He also coordinates an annual course for new tenure-track PIs, titled "How to Succeed as a PI at the NIH – Leadership & Management Skills."
Roland received his bachelor's degree in biology from the University of Maryland Baltimore County (UMBC) and his Ph.D. in biology from The Johns Hopkins University. He began his career at NIH as a National Research Service Award Fellow in the National Institute of Child Health and Human Development (NICHD) in 1985. In 1988 he received an Intramural Research Training Award in the National Institute of Diabetes and Digestive and Kidney Diseases (NIDDK). He became a principal investigator in NIDDK in 1992, and he was tenured in 1998.
Roland's research focused on adeno-associated virus type-2 (AAV2). His group's 1994 paper "Adeno-associated virus (AAV) Rep proteins mediate complex formation between AAV DNA and its integration site in human DNA" (Proc. Natl. Acad. Sci. USA 91:5808-5812) has been cited more than 250 times. Roland is a co-inventor on two patents involving AAV2 gene therapy applications. He served on the editorial board of Journal of Virology from 1997 to 2002, and he was a member of the NIH Central Tenure Committee from 2000–2002. He is active in mentoring minority scientists, and in 2002 he was selected as Mentor of the Year by the UMBC Meyerhoff Scholarship Program.
In 2010, Dr. Owens won an NIH Director's Award for co-leading the trans-NIH Earl Stadtman tenure-track investigator search. In 2011, he won an NIH Merit Award "in recognition of the exemplary support to NIH Leadership's establishing diversity programs."
This page was last updated on Wednesday, August 4, 2021