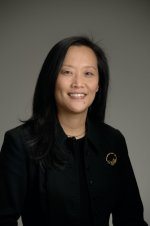 Janice Lee, D.D.S., M.D., M.S.
Deputy Director for Intramural Clinical Research
D.D.S., UCLA School of Dentistry, 1994
M.D., Harvard Medical School, 1997
M.S., UCLA School of Dentistry, 1998
Dr. Lee received her D.D.S. and M.S. in oral biology from the UCLA School of Dentistry and her M.D. from Harvard Medical School. She completed her residency in general surgery and oral and maxillofacial surgery at Massachusetts General Hospital, following which she was a post-doctoral fellow in NIDCR. She subsequently joined the faculty at UCSF, where she rose through the ranks to become a Professor of Clinical Oral & Maxillofacial Surgery and was recruited back to the NIDCR, where she is now the Clinical Director and Chief of the Craniofacial Anomalies and Regeneration Section. She has received much recognition for her work on behalf of clinical researchers, including leadership roles in the UCSF Academic Senate and Chair of the Faculty Council, a Champion of Diversity award from UCSF, and the Alan S. Rabson inaugural lecture at the NIH, and she was among the few women in the country chosen to participate in the Executive Leadership in Academic Medicine Program (ELAM). In September 2020, she was appointed as Deputy Director for Intramural Clinical Research (DDICR) to support clinical research and clinical researchers and clinicians at the NIH.
Dr. Lee brings expertise in surgery as well as outstanding translational research and will continue her pioneering studies on craniofacial developmental anomalies and bone regeneration.
This page was last updated on Wednesday, August 4, 2021