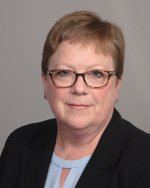 Kathryn M. Partin, Ph.D.
Director of Research Integrity
Agency Intramural Research Integrity Officer (AIRIO)
B.A., University of Michigan, 1982
Ph.D., SUNY at Stony Brook, 1990
Dr. Kathy Partin was appointed as the Director of Research Integrity and the Agency Intramural Research Integrity Officer (AIRIO) in 2019. In this role, she is directly responsible for overseeing the resolution of all research misconduct allegations involving intramural research, and for promoting research integrity within the NIH Office of Intramural Research (OIR). Kathy is also involved with resolving intramural authorship disputes, and in monitoring intramural research that uses human stem cells and biospecimens.
Kathy earned her undergraduate degree in history from the University of Michigan, and her doctorate in microbiology from the State University of New York at Stony Brook. She completed postdoctoral training at Duke University studying the pathophysiology of HIV and at the NIH National Institute of Child Health & Human Development studying neurophysiology. Kathy performed NIH-funded basic neuroscience research in academia from 1996-2015 at Colorado State University. While in academia she taught responsible conduct for research courses to graduate students, postdoctoral fellows, and junior faculty, and was the Research Integrity Officer. Kathy served as the Director of the HHS Office of Research Integrity from 2015-2018.
This page was last updated on Wednesday, August 4, 2021