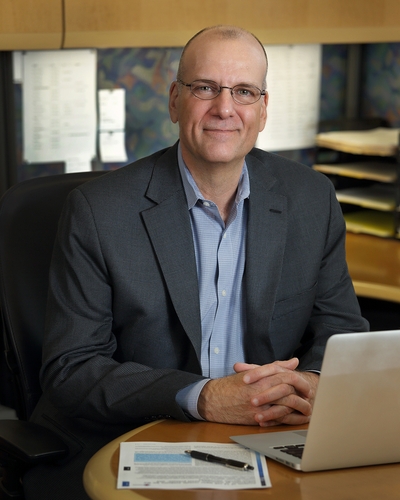 Andy Baxevanis, Ph.D.
Director of Computational Biology, OIR
B.S., Cornell University, 1984
Ph.D., The Johns Hopkins University, 1991
Dr. Baxevanis is the director of Computational Biology for the National Institutes of Health's (NIH) Intramural Research Program. He is also a senior scientist leading the Computational Genomics Unit at the National Human Genome Research Institute (NHGRI).
Dr. Baxevanis' research program uses computational approaches to understand the molecular innovations that drove the surge of diversity in early animal evolution. His research group focuses on the analysis of genomes of early branching animal phyla to understand the relationship between genomic and morphological complexity, as well as the evolution of novel cell types. Dr. Baxevanis' group focuses specifically on invertebrate species with the potential to serve as "emerging research organisms" that can yield insights of relevance to human health.
Dr. Baxevanis received his Bachelor of Science in biological sciences from Cornell University and his Ph.D. in the Department of Biology at The Johns Hopkins University. He was a post-doctoral fellow at the National Center for Biotechnology Information at NIH, after which he joined the NHGRI faculty.
Dr. Baxevanis is co-author of the textbook Bioinformatics: A Practical Guide to the Analysis of Genes and Proteins, now in its fourth edition. His involvement in educational activities have included teaching bioinformatics at The Johns Hopkins University, serving as an adjunct faculty member at Boston University, and serving as the director of NHGRI's Intramural Training Office. He has also served as the co-director of the Boston University/NIH Graduate Partnerships Program in Bioinformatics.
Dr. Baxevanis is the recipient of the Bodossaki Foundation's 2000 Academic Prize in Medicine and Biology, Greece's highest honor for young academics and scientists of Greek heritage throughout the world. In 2007, Dr. Baxevanis was awarded the IEEE Computer Society's Outstanding Achievement Award for his outstanding contributions to the field of bioinformatics. In 2014, he was elected to membership in the Johns Hopkins Society of Scholars, which recognizes alumni who have achieved marked distinction in their field of study. Dr. Baxevanis was the recipient of the NIH's Ruth L. Kirschstein Mentoring Award in 2015, in recognition of his commitment to scientific training, education and mentoring. In 2016, Dr. Baxevanis was elected as a senior member of the International Society for Computational Biology for his sustained contributions to the field, and, in 2018, he was elected as a fellow of the American Association for the Advancement of Science for his distinguished contributions to the field of comparative genomics.
This page was last updated on Tuesday, August 22, 2023