Patient centered outcomes research: new directions; major challenges; transformative potential
to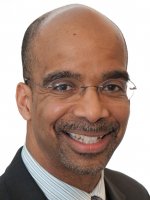 Clyde W. Yancy, M.D., M.Sc.
Magerstadt Professor
Chief of the Division of Cardiology
Associate Director of the Bluhm Cardiovascular Institute
Northwestern University Feinberg School of Medicine
Dr. Yancy has active clinical and research interests in heart failure, heart transplantation, cardiomyopathies, hypertension, prevention and public health. He is board-certified in internal medicine with a subspecialty in cardiovascular disease. He is a past president of the American Heart Association, a fellow of the American College of Cardiology, and a master of the American College of Physicians. He serves on the Advisory Committee to the Director of the National Institutes of Health, and is a consultant to the National Heart Lung and Blood Institute. In addition, he chairs the FDA panel on cardiovascular devices and is a member of the PCORI Methodology Committee.
Summary
The Patient Centered Outcomes Research Institute (PCORI) was authorized by Congress — in legislation that was coincident with the Affordable Care Act — to conduct research to provide information about the best available evidence to help patients and their health-care providers make more informed decisions. Since 2010, a research infrastructure has been created to support a different model of clinical research. Practical questions impacting health-care delivery, unmet clinical needs, and health-care inequities are being explored through extensive measures of patient engagement. With a stable funding source, PCORI is approaching half a billion dollars per year of funded research. Concomitantly, a parallel dedicated effort has led to the development of a set of defined data standards governing best practices in patient-centered research. The anticipation is the generation of immediately useable high quality information that will change human health and/or better inform clinical practice.
This page was last updated on Wednesday, August 11, 2021