Autism: New mutations, genes, and pathways
to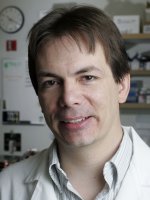 Evan Eichler, Ph.D.
Professor of Genome Sciences
Dr. Eichler and his research group provided the first genome-wide view of segmental duplications within human and other primate genomes. He is a leader in an effort to identify and sequence normal and disease-causing structural variations in the human genome. The long-term goal of his research is to understand the evolution pathology and mechanism(s) of recent gene duplication and DNA transposition within the human genome. His group's work involves the systematic discovery of these regions, the development of methods to assess their variation, the detection of signatures of rapid gene evolution and ultimately the correlation of this genetic variation with phenotypic differences within and between species.
Summary
Dr. Eichler will summarize his recent findings regarding the discovery of new genes and genetic mutations that contribute to autism spectrum disorder (ASD) and developmental delays. The lecture will highlight the identification of rare disruptive mutations using copy-number variation from exome- and genome-sequencing approaches on thousands of individuals. He proposes that the early development of the brain is particularly sensitive to the timing and expression of many different genes; multiple genetic perturbations within specific neurodevelopmental pathways can lead to disease with varying severity and predict clinical subtypes of autism. Dr. Eichler will present data on how grouping patients based on a specific gene can be used to predict clinical subtypes of autism. The flood of recent data and candidates provides a powerful path forward for understanding the genetic basis of autism.
This page was last updated on Wednesday, August 11, 2021