A new day for drug development in neuroscience
to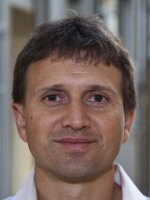 Ricardo Dolmetsch, Ph.D.
Global Head of Neuroscience
Novartis Institutes for BioMedical Research
Summary
My [former] laboratory at Stanford studied the underlying cellular and molecular basis of autism spectrum disorders and other genetic neurodevelopmental disorders. We pioneered the use of induced pluripotent stem cells to study neurodevelopmental and psychiatric disease. At the Novartis Institutes for Biomedical Research we are developing new medicines to reduce human suffering and address serious unmet medical needs. For example we are developing technologies that will allow us to diagnose and treat genetic diseases like autism and intellectual disability. We are also developing more precise ways of modifying neuronal circuits in the brain of patients with mental illness. Finally our pipeline includes potentially breakthrough treatments for Alzheimer's disease and other neurodegenerative diseases. We aspire to generate the world's best science and put it at the service of patients and families dealing with neuropsychiatric disease.
This page was last updated on Wednesday, August 11, 2021