Research directions for solving the obesity epidemic in high-risk populations
Robert S. Gordon Jr. Lecture | to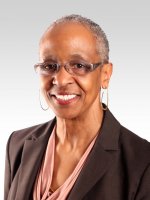 Shiriki Kumanyika, Ph.D., M.P.H.
Professor Emerita of Epidemiology in Biostatistics & Epidemiology
Perelman School of Medicine at the University of Pennsylvania
Prior to her appointment as an emeritus professor at Perelman School of Medicine, Dr. Kumanyika served as Penn Medicine's Associate Dean for Health Promotion and Disease Prevention (1999– June 2014) and founded Penn's university-wide, interdisciplinary Master of Public Health Program. Her research focuses on reducing diet-related chronic-disease risks. She has been principal investigator or co-investigator of several NIH-funded single-site and multi-center trials and observational studies related to salt and other dietary intake, and obesity. She has also done studies that promote healthy eating and physical activity in African American children and adults. In 2002, Dr. Kumanyika founded, and continues to lead, the African American Collaborative Obesity Research Network—a national network that seeks to improve the quality, quantity, and effective translation of research on weight issues in African American communities.
Summary
The prevalence of obesity is high in the United States, especially among children and adults in most U.S. racial/ethnic minority and low-income populations, compared to whites or those with higher incomes. This observation continues to beg for explanations that can point the way toward effective and durable solutions. Several potential explanations relate to the social, economic, and physical environments that influence eating and physical activity. Reviews of obesity research relevant to African Americans illustrate the difficulty of evaluating these explanations in ways that can inform specific interventions, but these reviews suggest promising research directions going forward.
This page was last updated on Wednesday, August 11, 2021