Using social media to investigate adolescent health
to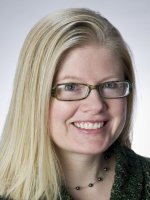 Megan A. Moreno, M.D., M.S.Ed., M.P.H.
Associate Professor of Pediatrics
Seattle Children's Research Institute
Dr. Moreno's research focuses on ways in which technology can be used towards improving adolescent health with particular interests in social media. She is the principal investigator of the Social Media and Adolescent Health Research Team (SMAHRT) whose staff and students include an interdisciplinary team of undergraduates, graduate and medical students, residents and fellows, postdocs, and a rich alumni network. SMAHRT has three primary areas of focus: health representations on social media, problematic Internet use (PIU), and Internet safety. Dr. Moreno's team is currently conducting a NIDA-sponsored longitudinal multisite study of college students' social media use as a mechanism of behavior change for substance use. Her book: Sex, Drugs 'N Facebook was published in October 2013. The book was based on research conducted by SMAHRT, with findings translated into helpful tips and guidelines for parents and adults towards promoting safe Internet use.
Summary
Social media technologies, which are widely used by adolescents, allow opportunities for teens to display and describe health attitudes, intentions, and behaviors. These technologies also provide an innovative means to investigate adolescent health. For the past seven years, Dr. Moreno has been investigating how adolescents choose to display health behaviors on social media, including substance use and depression symptoms. Her talk will provide an overview of her methods and key findings and illustrate challenges and opportunities in how adolescents interact with social media.
This page was last updated on Wednesday, August 11, 2021