Bacteria as master regulators and aphrodisiacs
to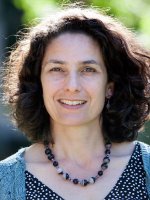 Nicole King, Ph.D.
Professor of Genetics, Genomics and Development
University of California, Berkeley
Summary
Choanoflagellates are the closest living relatives of animals, and the mechanisms underlying their interactions with bacteria promise to illuminate both the origin of animals and the interactions between animals and bacteria. By studying the choanoflagellate S. rosetta, Dr. King's lab has discovered that specific lipids produced by environmental bacteria determine the development of multicellular "rosettes" from a founding cell. Recently, she has found that bacteria in the genus Vibrio regulate gametogenesis and mating in S. rosetta. Moreover, her lab has detected that bioactive molecules produced by bacteria act to induce, enhance, and inhibit developmental switches in choanoflagellates. Thus, bacterial control of morphogenesis in S. rosetta follows a regulatory logic resembling transcription-factor-based endogenous regulation of development in animals.
This page was last updated on Wednesday, August 11, 2021