Move Over, Mice: How the fusion of system biology with "organs on chips" may humanize drug development
to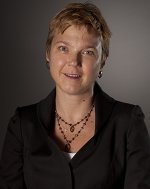 Linda Griffith, Ph.D.
Professor of Biological and Mechanical Engineering
Massachusetts Institute of Technology
Summary
"Mice are not little people," is a refrain that is becoming louder as the strengths and weaknesses of animal models of human disease become more apparent. At the same time, three emerging approaches are headed toward integration: powerful systems-biology analysis of cell-cell and intracellular signaling networks in patient-derived samples; 3D tissue-engineered models of human organ systems, often made from stem cells; and micro-fluidic and meso-fluidic devices that enable living systems to be sustained, perturbed, and analyzed for weeks in culture. Dr. Griffith's lecture will highlight how the integration of these rapidly moving fields is leading to a better understanding of difficult clinical problems, with an emphasis on translating academic discoveries into practical, widespread use. These technologies may have broad implications for regenerative medicine as they may foster the development of therapies that slow or halt the progression of diseases that lead to organ or tissue failure.
This page was last updated on Wednesday, August 11, 2021