Repetitive DNA sequences in health and disease: gift wrappings for precision medicine
to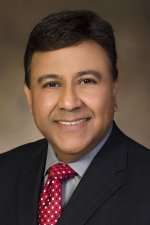 Ken Ramos, M.D., Ph.D.
Interim Dean, College of Medicine – Phoenix
Associate Vice President for Precision Health Sciences
Professor of Medicine
Director, Center for Genetics and Molecular Medicine
Summary
Dr. Ramos is recognized as a leading expert in the study of gene-gene and gene-environment interactions and genomic medicine. His research program integrates diverse approaches, ranging from molecular genetics to population-based public health studies in efforts to understand the genetic and genomic basis of human disease and to advance the goals of precision medicine. Ongoing basic science studies in his laboratory focus on repetitive genetic elements in the mammalian genome and their role in genome plasticity and disease, while his clinical work focuses on the characterization of diagnostic and prognostic biomarkers for chronic disease and cancer.
This page was last updated on Wednesday, August 11, 2021