Cellular communication: how cells control who they're talking to and what they're saying
to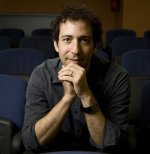 Michael B. Elowitz, Ph.D.
Investigator, HHMI
Professor, Bren Scholar
California Institute of Technology
Summary
In multicellular organisms, a handful of intercellular communication pathways, such as Notch and BMP, play an outside role in controlling cell fate decisions. While we have much information about the specific molecules and interactions that comprise these pathways, we often understand little about the particular signal processing behaviors each pathway provides. We have been developing a 'build-to-understand' approach to this problem, reconstructing or re-wiring these pathways using synthetic biology approaches, and analyzing their dynamic behaviors at the level of individual cells. For his lecture, Dr. Elowitz will focus on a particular architectural feature in which a pathway uses multiple distinct ligand and receptor variants that interact promiscuously with one another. New results suggest how this apparent redundancy can, counterintuitively, allow control of signal specificity ("who talks to whom") and target program ("message"). Dr. Elowitz will also discuss a new synthetic approach termed MEMOIR that should enable cells to record their own signaling histories over longer timescales.
This page was last updated on Wednesday, August 11, 2021