From human genetics to therapeutic hypothesis for nervous system disorders: pain and Alzheimer's disease
to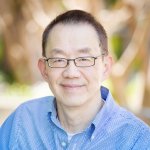 Morgan Sheng, M.B.B.S., Ph.D.
Vice President, Neuroscience
Summary
Dr. Sheng is Vice-President, Neuroscience, and responsible for directing neuroscience research and drug discovery efforts at Genentech. An expert on synapse biology, Dr. Sheng is now focused on the genetic underpinnings and pathogenic mechanisms of neurodegenerative disease, including Alzheimer's, Parkinson's, fronto-temporal dementia. In this translational context, recent research activities of the Sheng lab have centered on the molecular and cellular mechanisms of synapse loss, regulation of mitophagy, microglial involvement in neurodegeneration, and functions of TREM2.
This page was last updated on Wednesday, August 11, 2021