The molecular logic of synapse formation in the brain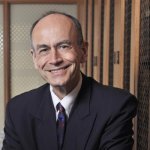 Thomas Christian Südhof, M.D.
Avram Goldstein Professor
Stanford School of Medicine
Summary
Thomas Südhof is interested in how synapses form and function in the developing and adult brain. His work focuses on the role of synaptic cell-adhesion molecules in establishing synapses and shaping their properties, on pre- and postsynaptic mechanisms of membrane traffic, and on impairments in synapse formation and synaptic function in neuropsychiatric and neurodegenerative disorders. To address these questions, Südhof's laboratory employs a spectrum of approaches ranging from biophysical studies and physiological and behavioral investigations of mutant mice to analyses of human neurons.
This page was last updated on Wednesday, August 11, 2021