The two faces of the IL-15- Janus Kinase-Stat system: implications for the immunotherapy of autoimmune diseases and cancer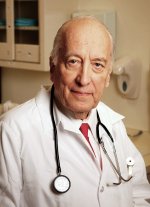 Thomas A. Waldmann, M.D.
NIH Distinguished Investigator
National Cancer Institute
Summary
Dr. Walmann will present the annual William Paul lecture. Dr. Waldmann defined the IL-2 receptor alpha and beta subunits using the daclizumab antibody he discovered, an antibody that is approved by the FDA. He co-discovered IL-15 and performed the first in-human clinical trial with this agent in patients with malignancy. Furthermore, Waldmann defined molecular abnormalities of the common gamma cytokine, Jak/Stat signaling pathway in HTLV-1 associated adult T-cell lymphoma and translated this discovery with a trial of a Jak inhibitor in patients with this disorder.
This page was last updated on Wednesday, August 11, 2021