Autoantigens and autoimmunity: a bedside to bench and back again story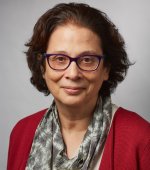 Sandra L. Wolin, M.D., Ph.D.
Chief, RNA Biology Laboratory
National Cancer Institute
Summary
Noncoding RNAs play critical roles in the metabolism of all cells. The Wolin laboratory studies how noncoding RNAs function, how cells recognize and degrade defective noncoding RNAs, and how failure to degrade these RNAs affects cell function and contributes to human disease. Their studies revealed new mechanisms by which defective RNAs are targeted for degradation and new classes of noncoding RNAs. Most recently, their work has contributed to a novel theory for how the autoimmune disease systemic lupus erythematosus may be triggered in genetically susceptible individuals.
This page was last updated on Wednesday, August 11, 2021