Microbial networking (…it's like Tinder for bugs)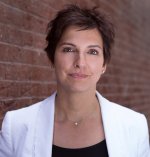 Elodie Ghedin, Ph.D.
Professor of Biology and Global Public Health
Director, Center for Genomics and Systems Biology
Summary
Research in the Ghedin Lab meets at the interface of microbiology, genomics, and systems biology. Projects touch on the extent of intra- and inter-host microparasite (viruses and bacteria) diversity within the context of transmission and virulence, and parse the relationship between microbial ecology in the respiratory tract and disease progression.
This page was last updated on Wednesday, August 11, 2021