Evolution of Adaptive Immunity in Vertebrates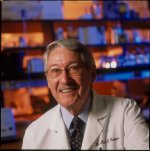 Max D. Cooper, M.D.
Professor of Pathology and Laboratory Medicine
Emory University School of Medicine
Dr. Cooper is the recipient of the 2019 Albert Lasker Basic Medical Research Award for his role in the "discovery of the two distinct classes of lymphocytes, B and T cells—a monumental achievement…that launched the course of modern immunology."
He obtained his medical degree from and completed his pediatric residency training at Tulane University Medical School. His laboratory is studying the evolution of adaptive immunity and exploring the use of lamprey monoclonal antibodies for the diagnosis and therapy of infectious diseases and lymphoid malignancies in humans.
In addition to being a Lasker-Award winner, Dr. Cooper is a former president of the American Association of Immunologists, the Clinical Immunology Society and the Kunkel Society. He is a member of the U.S. National Academy of Sciences, the Academy of Medicine, the American Academy of Arts and Sciences, a foreign member of the French Academy of Sciences and the Royal Society of London. Honors include the Society for Experimental Biology and Medicine Founder's Award (1966), Sandoz Prize in Immunology (1990), American College of Physicians Science Award (1994), American Association of Immunologists (AAI) Lifetime Achievement Award (2000), AAI-Dana Foundation Award in Human Immunology Research (2006), Avery- Landsteiner Prize (2008), the Robert Koch Prize (2010), AAI Excellence in Mentoring Award (2012) and most recently, the Japan Prize (2018) and Albert Lasker Basic Medical Research Award (2019).
Summary
Phylogenetic studies indicate that T cells and B cells have been constant companions in vertebrates for more than 500 million years. For antigen recognition, however, lymphocytes in the jawless vertebrates (lampreys and hagfish) use variable lymphocyte receptors that are composed of leucine-rich repeat sequences instead of immunoglobulin V(D)J and C domains. Convergent evolution may account for these alternative solutions to achieve specific adaptive immunity. Monoclonal lamprey antibodies may have even greater antigen-specificity than mouse and human antibodies and can recognize unique antigens, including novel target epitopes on human tumor cells.
This page was last updated on Wednesday, August 11, 2021