Scalable Platforms for Generating RNA Sensors and Controllers
DeWitt Stetten Jr. Lecture | to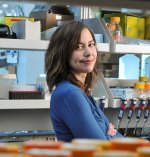 Christina D. Smolke, Ph.D.
Professor (Research) of Bioengineering and, by courtesy, of Chemical Engineering
Dr. Smolke's academic research program develops foundational tools that drive transformative advances in our ability to engineer biology. Her group pioneered the development of yeast biosynthesis platforms for complex plant-based alkaloids. Dr. Smolke is co-founder and CEO of Antheia, which leverages advances in synthetic biology, genomics, informatics, and fermentation to transform how we make and discover important medicines. Her impact in advancing the frontiers of biotechnology has been recognized with many awards and honors: Chan Zuckerberg Biohub Investigator (2017–present); NIH Director's Pioneer Award (2012–2017); Nature's 10 people who mattered in science (2015), American Institute for Medical and Biological Engineering College of Fellows (2016); and more.
Summary
Whether animals are looking for food or mates, or avoiding pathogens and predators, they rely on biosensors—molecules that allow animals to sense and respond to their environments. Creating new kinds of biosensors to receive, process, and transmit molecular information is the focus of Dr. Smolke's research. Her innovative approaches for designing biomolecules have applications in diagnostics, drug development, green chemistry, and more. Her lab has created RNA molecules, or switches, that can detect the disease state of a cell. The switches are being further developed for targeted drug delivery. Despite these successes, however, current methods for designing biomolecules remain inefficient and laborious.
To improve the design of biomolecules, Dr. Smolke is developing high-throughput methods to obtain information about the biochemical activity of millions of RNA switches in a single experiment. These data are used for producing new computational methods to predict the function of RNA molecules based on their sequence and structure. Dr. Smolke's work may accelerate our ability to rapidly design and build biomolecules for a variety of applications in medicine and environmental conservation.
This page was last updated on Wednesday, August 11, 2021