A two act play: The character of cells and the role of biomechanics
to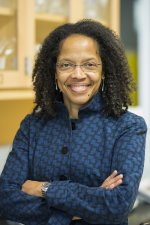 Gilda A. Barabino, Ph.D.
Daniel and Frances Berg Professor
Dean of Engineering
The City College of New York
Summary
Dr. Barabino's research interests are primarily focused on cellular and tissue responses to fluid mechanical forces in the context of vascular disease and orthopedic tissue engineering. She concentrates on the characterization and quantification of mechanical and biochemical cues that influence tissue growth and disease progression. Her interdisciplinary work incorporates biology, materials science and engineering toward novel therapeutic strategies to improve the health of individuals suffering with sickle cell disease and those suffering with diseases associated with damaged cartilage and bone. To that end, she employs innovative engineering technologies to create models that recapitulate the environment within the body in order to better understand the pathophysiology of disease and the most appropriate strategies for treatment. She also employs complementary animal models to bridge translation of research findings to human clinical practice.
This page was last updated on Wednesday, August 11, 2021