Advancing Therapies for Children and Adults with Rare Tumors or Genetic Tumor Predisposition Syndromes
G. Burroughs Mider Lecture | to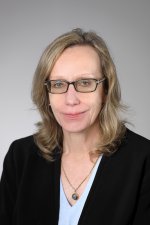 Brigitte Widemann, M.D.
Chief, Pediatric Oncology Branch
Head, Pharmacology and Experimental Therapeutics Section
Senior Investigator
Deputy Director, Center for Cancer Research
National Institutes of Health, National Cancer Institute
Dr. Widemann is the Chief of the National Cancer Institute's (NCI's) Pediatric Oncology Branch. Trained as a pediatric oncologist with expertise in drug development and early clinical trials for children with refractory cancers she applied her expertise to study genetic tumor predisposition syndromes (GTPS), in particular neurofibromatosis type 1 (NF1) and very rare pediatric and adult solid tumors. These efforts resulted in the understanding of the natural history and biology of NF1 related and other solid tumors and in the development of novel, meaningful trial endpoints and outcome measures. Based on the results of her clinical trials, the FDA approved the first medical therapy, the MEK inhibitor selumetinib, for children with NF1 and inoperable and symptomatic plexiform neurofibromas in 2020. Dr. Widemann is also co-leading a Cancer Moonshot funded effort, which aims to accelerate the understanding of very rare pediatric and young adult solid tumors with unmet medical need and the development of therapeutic trials through a collaboration of patients, advocates, clinicians, extramural researchers, and other partners.
Summary
Dr. Widemann will define rare tumors and genetic tumor predisposition syndromes and their unmet medical need. This will be followed by approaches taken in the NIH intramural research program, which provides unique resources to study rare tumors. She will highlight this in examples of NF1, RASopathies, and other rare tumors in children and adults. In addition to providing examples of advances, Dr. Widemann will highlight remaining challenges and future directions. Throughout the talk, she will provide examples how teamwork and collaboration is critical to advance the development of effective therapies for rare tumors.
This page was last updated on Thursday, May 19, 2022