Casting the Net Wide: Neutrophils Shape Chronic Inflammatory Diseases
G. Burroughs Mider Lecture | to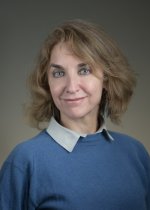 Mariana J. Kaplan, M.D.
Senior Investigator
Chief, Systemic Autoimmunity Branch
Deputy Scientific Director
National Institute of Arthritis and Musculoskeletal and Skin Diseases
Dr. Kapan is chief of the NIAMS Systemic Autoimmunity Branch and also NIAMS Deputy Scientific Director. Her research aims to further the understanding of the pathophysiology and clinical spectrum of systemic autoimmune diseases, such as lupus erythematosus, and to translate this knowledge into better therapies that may improve outcomes for patients with these conditions. Dr. Kaplan's research has focused on identifying mechanisms of immune dysregulation, organ damage and premature vascular disease in systemic autoimmunity. More specifically, she investigates how innate immunity (in particular, type I interferons and myeloid cells) promote end-organ damage in systemic lupus erythematosus, rheumatoid arthritis and other systemic autoimmune diseases. Recently, her research has focused on identifying abnormalities of neutrophil subsets and the role of neutrophil extracellular traps (NETs) in lupus and rheumatoid arthritis, both of which may contribute to the development of autoimmune responses and to end-organ damage. Dr. Kaplan also has an interest in identifying novel therapeutic targets that may prevent premature vascular damage in systemic autoimmunity, as well as the role of environmental triggers in the induction of autoimmunity. Moreover, she has led clinical trials to identify mechanisms that reduce blood vessel dysfunction in autoimmune and chronic inflammatory disorders.
Summary
Recent discoveries have led to a resurgence of interest in neutrophils as shapers of immune dysregulation and as triggers of organ damage in chronic inflammatory diseases. These important advances have emphasized that neutrophils are significantly more versatile and heterogenous than was previously thought and that they may play fundamental roles in the pathogenesis of systemic autoimmune diseases, such as systemic lupus erythematosus, as well as in the development of vascular damage. These discoveries may have significant implications for the development of new therapies that target dysregulated neutrophil function in chronic inflammatory diseases and in the characterization of biomarkers of disease risk and severity.
This page was last updated on Thursday, May 19, 2022