The Contagion Next Time: Underlying Socioeconomic and Racial Divides and Our Risk from COVID and Future Pandemics
to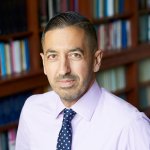 Sandro Galea, M.D., M.P.H., Dr.PH.
Dean and Robert A. Knox Professor
Boston University School of Public Health
Sandro Galea, a physician, epidemiologist, and author, is dean and Robert A. Knox Professor at Boston University School of Public Health. He previously held academic and leadership positions at Columbia University, the University of Michigan, and the New York Academy of Medicine. He has published extensively in the peer-reviewed literature, and is a regular contributor to a range of public media, about the social causes of health, mental health, and the consequences of trauma. He has been listed as one of the most widely cited scholars in the social sciences. He is chair of the board of the Association of Schools and Programs of Public Health and past president of the Society for Epidemiologic Research and of the Interdisciplinary Association for Population Health Science. He is an elected member of the National Academy of Medicine.
Summary
Health is a product of a broad range of social and economic conditions. The COVID-19 pandemic showed how longstanding underinvestment in these conditions affected our overall health during a time of crisis and widened health gaps between racial/ethnic and socioeconomic groups. COVID-19 illustrates how our extraordinary achievement in biomedical science—evidenced by remarkable advances to a COVID-19 vaccine in record time—is not matched by commensurate achievement in creating the conditions that can generate health in populations.
This page was last updated on Thursday, May 19, 2022