Shake, Rattle, and Roll: Capturing Snapshots of Ribonucleotide Reductase in Action
to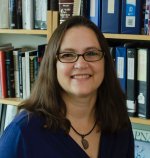 Cathy Drennan, Ph.D.
Professor of Chemistry and Biology
HHMI Investigator and Professor
Massachusetts Institute of Technology
Dr. Drennan is a professor of biology and chemistry at the Massachusetts Institute of Technology, as well as a professor and investigator with the Howard Hughes Medical Institute. Her research interests lie at the interface of chemistry and biology, combining X-ray crystallography with cryo-electron microscopy and other biophysical methods in order to "visualize" molecular processes by obtaining snapshots of metalloproteins in action. She strives to capture structural snapshots of metalloenzymes to understand how the combination of metal with protein allows for novel reactivity. She is known for going beyond the single image of one enzyme from one organism to elucidate structures of entire enzyme pathways and to capture multiple snapshots of enzymes as they proceed through their reaction cycles. She is a "molecular storyteller" with the goal of "bringing to life" the results of structural biology research.
Summary
The use of radical-based chemistry allows for amazing transformations in living organisms. To carry out their functions, radical enzymes often need to be flexible and assume different conformational states. In this talk, the conformational gymnastics involved in ribonucleotide reduction will be considered. Ribonucleotide reductases (RNRs) are radical enzymes that convert ribonucleotides (the building blocks of RNA) to deoxyribonucleotides (the building blocks of DNA). RNRs are targets for cancer chemotherapies and have been proposed as candidates for antimicrobial therapies. Dr. Drennan will describe how her lab has employed biophysical methods to interrogate how RNRs shake, rattle, and roll to accomplish their critical cellular function.
This page was last updated on Thursday, May 19, 2022