Leveraging the Intramural Research Program to Effect Foundational Progress in Neurodegenerative Disease
G. Burroughs Mider Lecture | to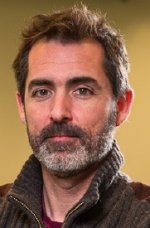 Andrew Singleton, Ph.D.
NIH Distinguished Investigator
National Institute on Aging, National Institutes of Health
Dr. Andrew Singleton has published more than 600 articles on a wide variety of topics. He leads a laboratory of about 50 staff, including five principal investigators and three group leaders. Singleton's lab works on the genetic basis of neurological disorders including Parkinson's disease, Alzheimer's disease, dystonia, ataxia, dementia with Lewy bodies, and amyotrophic lateral sclerosis (ALS). His team seeks to identify genetic variability that causes or contributes to disease and to use this knowledge to understand the underlying molecular processes. Most recently his work has expanded to the use of multimodal data in predicting disease. Dr. Singleton's group discovered a number of genetic mutations that cause disease, including the alpha-synuclein multiplication mutation and mutations in LRRK2. Dr. Singleton was a founding member of the International Parkinson Disease Genomics Consortium, which has identified the majority of the known genetic risk factors for Parkinson disease.
Summary
In this lecture, Dr. Singleton will cover his laboratory's work aimed at unraveling the genetics of Parkinson's disease. This work has resulted in the identification of a large number of causal risk variants and risk loci forming the basis for much of the current mechanistic research and providing targets for therapeutic intervention. He will discuss how genetics has evolved into highly collaborative team science, and how using the capabilities and position of the Intramural Research Program has been critically important in shaping this work. Lastly, he will discuss how his group has been central in the formation of a global research program in Parkinson's disease, and how this program aims to provide fundamental data and insights while democratizing data access and providing research opportunities for scientists from around the world.
This page was last updated on Thursday, May 19, 2022