Toward Personalization of HIV Treatment and Prevention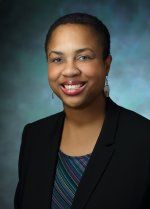 Namandjé N. Bumpus, Ph.D.
Director, Department of Pharmacology and Molecular Sciences
Professor of Pharmacology and Molecular Sciences
Dr. Namandjé N. Bumpus is the E.K. Marshall and Thomas H. Maren Professor and Director of the Department of Pharmacology and Molecular Sciences. Her research seeks to mechanistically define the role of drug metabolism in antiviral drug outcomes. She received her Ph.D. in pharmacology at the University of Michigan-Ann Arbor. She then completed a fellowship at the Scripps Research Institute in La Jolla, California. Dr. Bumpus currently serves on the council of the American Society for Pharmacology and Experimental Therapeutics (ASPET). She previously served as chair of the NIH Xenobiotic and Nutrient Disposition and Action study section and an associate editor of Drug Metabolism and Disposition. She is the past secretary/treasurer for the Division for Drug Metabolism of ASPET, and a member of the awards committees for ASPET and the International Society for the Study of Xenobiotics. She has been honored with scientific awards, including the Drug Metabolism Early Career Achievement Award from ASPET, the Leon I. Goldberg Young Investigator Award from the American Society for Clinical Pharmacology and Therapeutics and the Presidential Early Career Award for Scientists and Engineers awarded by President Obama.
Summary
(This will be a hybrid lecture, in person at Lipsett Amphitheather and on NIH VideoCast.) Antiretroviral therapy has markedly reduced morbidity and mortality for persons living with human immunodeficiency virus (HIV). Individual tailoring of antiretroviral regimens has the potential to further improve the long-term management of HIV through the mitigation of treatment failure and drug-induced toxicities. While the mechanisms underlying anti-HIV drug adverse outcomes are multifactorial, the application of drug-specific pharmacogenomic knowledge is required in order to move toward the personalization of HIV therapy. Thus, detailed understanding of the metabolism of antiretrovirals and the influence of genetics on these pathways is important.
This page was last updated on Thursday, May 19, 2022