Turning Genes into Medicines: Challenges in the Development of Gene Therapeutics
to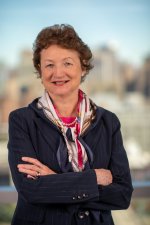 Katherine High, M.D.
President of Therapeutics
Emeritus Professor of Pediatrics, Perelman School of Medicine
Katherine High joined AskBio in January 2021 as President, Therapeutics and member of the AskBio Board of Directors. Dr. High is responsible for driving the strategic direction and execution of the company's preclinical and clinical programs. Most recently, she was a Visiting Professor at Rockefeller University. Previously, she served as President, Head of Research and Development, and a member of the Board of Directors at Spark Therapeutics, where she directed the development and regulatory approval of Luxturna®, the first gene therapy for genetic disease to obtain regulatory approval in both the United States and Europe. She was a longtime member of the faculty at the University of Pennsylvania and medical staff at The Children's Hospital of Philadelphia, where she was also an Investigator of the Howard Hughes Medical Institute. She served a five-year term on the U.S. Food and Drug Administration Advisory Committee on Cell, Tissue and Gene Therapies and is a past president of the American Society of Gene & Cell Therapy.
Summary
The first approved gene therapy in the Western world, alipogene tiparvovec, gained conditional approval by the European Medicines Agency in 2012. This lecture will review the progress of gene therapy since, including currently approved products and those in late-stage testing. Hurdles to approval, including the need to build regulatory infrastructure, and in some cases, the need to develop novel endpoints for diseases never before treated, will be discussed. Also discussed will be solutions being sought for other challenges, including optimal management of human immune responses to AAV vectors, and the complex clinical management of gene therapies targeting hematopoietic stem cells.
This page was last updated on Wednesday, May 18, 2022