Anticytokine Autoantibodies: Causes, Concomitants and Complications of Infectious Diseases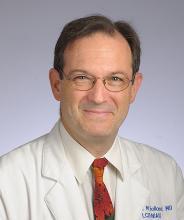 Steven Holland, M.D.
NIH Distinguished Investigator; NIAID Scientific Director
This is the annual Astute Clinician Lecture.
Dr. Holland received his M.D. from the Johns Hopkins University School of Medicine in 1983, where he stayed as a resident in internal medicine, assistant chief of service in medicine, and fellow in infectious diseases. He came to the National Institutes of Health in 1989 as a National Research Council fellow in the Laboratory of Molecular Microbiology, working on transcriptional regulation of HIV. In 1991, Dr. Holland joined the Laboratory of Host Defenses, shifting his research to the host side, with a focus on phagocyte defects and their associated infections. His work centered on the pathogenesis and management of chronic granulomatous disease, as well as other congenital immune defects affecting phagocytes, including those predisposing to mycobacterial diseases. He was chief of LCID from 2004 to 2016 and was selected as DIR director in 2016.
Summary
Steve Holland's research entails immune defects of phagocytes: GATA2 deficiency (MonoMAC), nontuberculous mycobacterial infections, chronic granulomatous disease, hyper IgE (Job's) syndrome, leukocyte adhesion deficiency; cytokines and their receptors in the pathogenesis and therapy of infections; susceptibility to disseminated mycobacterial infections, such as GATA2, autoantibodies to interferon gamma and defects in the interferon gamma/IL-12 pathway; mechanisms of mycobacterial pathogenesis; mechanisms of bacterial pathogenesis (e.g., Burkholderia); mechanisms of Coccidioides immitis pathogenesis; and mechanisms of airway dysfunction leading to mycobacterial and fungal infection
This page was last updated on Tuesday, September 27, 2022