Wisdom on Aging from the RNA World: Old Molecules in Young Roles
Florence Mahoney Lecture on Aging | to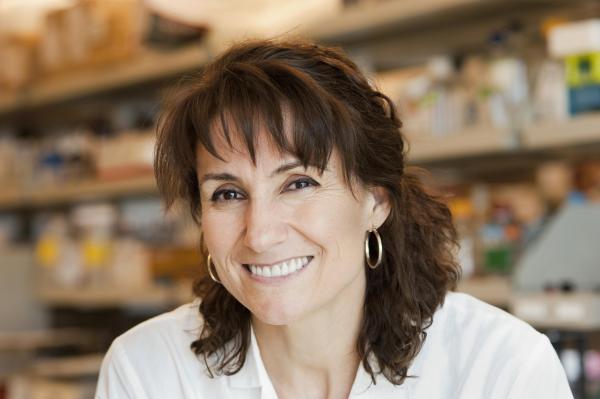 Myriam Gorospe, Ph.D.
Senior Investigator, NIA Laboratory of Genetics and Genomics
National Institute of Aging, NIH
Dr. Gorospe received her Ph.D. in Cell and Developmental Biology from the State University of New York at Albany in 1993. She then joined the National Institute on Aging (NIA) for post-doctoral training and has been a Principal Investigator and head of the RNA Regulation Section since 1998. Her group studies post-transcriptional gene regulation by RNA-binding proteins and noncoding RNAs in mammalian cell models of stress response, senescence, energy metabolism, and neurodegeneration. Her team's long-term goal is to identify RNA-driven gene expression programs in aging physiology and disease.
Summary
Ribonucleic acids (RNAs) are ancient macromolecules, likely the first molecules capable of heredity. Although RNAs of different sizes, sequences, and functions have been studied intensely over the past six decades, particular attention has been given to messenger (m)RNAs, the templates for protein synthesis. Interest in noncoding (nc)RNAs, which comprise a far larger and more diverse segment of the RNA family, has also escalated in recent years, especially as many ncRNAs, such as microRNAs and long noncoding (lnc)RNAs, directly influence protein expression programs. Together, coding and noncoding RNAs are increasingly recognized as integral molecules in human physiology and disease.
Since its creation in 1998, the focus of our laboratory has been the coding and noncoding RNAs that that impact upon aging biology. Using a range of cell and animal models, we study aging-relevant processes controlling protein production (such as mRNA splicing, modification, transport, turnover, and translation) by RNA-binding proteins (RBPs) and ncRNAs. Our overarching hypothesis is that post-transcriptional regulatory events directly influence gene expression programs underlying the normal physiologic declines and the pathologies of aging. Over the years, we have tested this hypothesis in normal aging processes by analyzing the impact of RBPs and ncRNAs on age-associated inflammation, impaired muscle regeneration, cellular senescence, and aberrant responses to proliferative and metabolic stimuli. We have also investigated RBPs and ncRNAs in age-associated diseases such as diabetes, sarcopenia, cancer, and neurodegeneration. In this lecture, I will use examples from our studies on RNA to illustrate how these ancient molecules shed light on the biology of aging, and guide efforts to delay, reduce, and prevent diseases and declines of old age.
Objectives:
-To appreciate the influence of coding and noncoding RNA in age-associated protein expression programs.
-To understand basic principles of cell senescence in aging biology.
-To learn the impact of post-transcriptional gene regulation in senescence and aging.
This page was last updated on Friday, February 24, 2023