Harnessing nature's gift: human monoclonal antibodies as therapeutics against viral and bacterial infections
to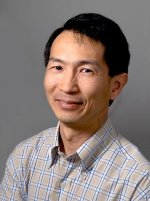 Man-Wah Tan, Ph.D.
Director and Senior Scientist, Infectious Diseases
Summary
Antibodies are potent components of the human immune system and show great potential as therapeutics for the treatment of infectious diseases. In this lecture, Dr. Tan will provide two examples on how the antimicrobial discovery teams at Genentech isolated and engineered human antibodies to treat viral and bacterial infections. First, using an innovative in vivo human-plasmablast enrichment technique, his laboratory discovered antibodies that neutralize all seasonal and pandemic influenza A viruses. These antibodies bind hemagglutinins (HA), locking the HA in the pre-fusion conformations and prevent fusion between the viral membrane and host endosome. Efficacy studies in animal and human challenge models of influenza infections have demonstrated that these antibodies have strong antiviral activity and the potential to be used as therapeutics for the treatment of severe influenza infections.
Second, Dr. Tan will discuss the development of an antibody-antibiotic conjugate (AAC) for the treatment of severe Staphylococcus aureus infections. S. aureus can survive within multiple human cell types. The fact that bacteria within the intracellular environment are protected from antibiotics provides a compelling explanation for clinical failures of conventional antibiotic therapy. The Tan lab confirms that the intracellular reservoirs of S. aureus comprise a virulent subset of bacteria that can establish infection even in the presence of vancomycin. This finding suggests that AAC is superior to vancomycin for the treatment of bacteremia.
This page was last updated on Wednesday, August 11, 2021