Comprehensive molecular profiling to support treatment recommendations for advanced cancer
to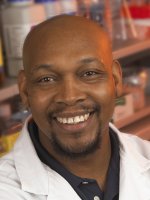 John D. Carpten, Ph.D.
Deputy Director of Basic Science
Professor and Director, Integrated Cancer Genomics Division
Dr. Carpten also has an intense focus on understanding the role of biology in disparate cancer incidence and mortality rates seem among minority populations. Through his leadership, the African American Hereditary Prostate Cancer Study (AAHPC) Network was conceived. This study has become a model for genetic linkage studies in underrepresented populations and led to the first genome wide scan for prostate cancer susceptibility genes in African Americans. More recently, his group has discovered a number of single nucleotide polymorphisms, which confer increased risk of developing prostate cancer.
More recently, Dr. Carpten has begun to apply Next Generation Sequencing (NGS) technologies for deep genomic profiling of tumors. These technologies offer the opportunity to sequence entire cancer genomes to discovery of mutations, copy number changes, and rearrangements such as translocations. It is his ultimate hope that his work will lead to more accurate means of cancer diagnosis and to the adoption of knowledge based therapeutic decision-making toward improving outcomes in cancer patients.
Summary
Prior to joining TGen, Dr. Carpten was an intramural tenure track investigator with the Cancer Genetics Branch of the National Human Genome Research Institute (NHGRI), NIH, a group that pioneered a number of innovative technologies and methods to study the underlying genetics of cancer. At NIH, he co-led the first published genome wide scan for prostate cancer susceptibility genes published in 1996 in Science. His lab subsequently discovered germ-line mutations in theRNASEL gene in HPC1-linked hereditary prostate cancer families. His contigs of the 1q24-q31 region of the human genome became the framework and template for sequencing of that 20 megabase region by the Human Genome Project. These data were also used for the subsequent discovery of two other disease genes. The PRG4 gene mapped to 1q24 and mutations within this gene result in CACP, a congenital joint disease. Also mutations in theHRPT2 gene, which maps to 1q31, were discovered in the Carpten lab and lead to hyperparathyroidism jaw-tumor syndrome. HRPT2mutation and parafibromin IHC assays are currently being developed as a clinical diagnostics for parathyroid cancer.
This page was last updated on Wednesday, August 11, 2021