Medicine and the Media: A morning with Sanjay Gupta, M.D.
J. Edward Rall Cultural Lecture | to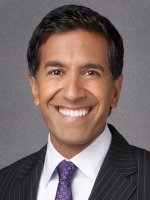 Sanjay Gupta, M.D.
Assistant Professor of Neurosurgery
Dr. Sanjay Gupta is the multiple Emmy award-winning chief medical correspondent for CNN. Gupta, a practicing neurosurgeon, plays an integral role in CNN's reporting on health and medical news for American Morning, Anderson Cooper 360°, CNN documentaries, and anchors the weekend medical affairs program Sanjay Gupta, MD. Gupta also contributes to CNN.com and CNNHealth.com. His medical training and public health policy experience distinguish his reporting on a range of medical and scientific topics including brain injury, disaster recovery, health care reform, fitness, military medicine, HIV/AIDS, and other areas.
Summary
This year's annual NIH J. Edward Rall Cultural Lecture features Dr. Sanjay Gupta, an Emmy Award-winning journalist and chief medical correspondent for CNN. Dr. Gupta is a successful practicing neurosurgeon and a member of the American College of Surgeons, the American Association of Neurological Surgeons, and the Congress of Neurological Surgeons. His talk is is entitled "Medicine and the Media: A morning with Sanjay Gupta, M.D."
This page was last updated on Wednesday, August 11, 2021