Democratizing discovery science with n=Me
to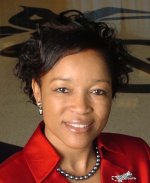 Elizabeth Ofili, M.D., M.P.H., F.A.C.C.
Professor of Medicine (Cardiology)
Senior Associate Dean of Clinical and Translational Research
Morehouse School of Medicine
Summary
Lack of inclusion of under represented populations in biomedical research contribute to inequities in health. The NIH Precision Medicine Initiative intends to build bridges from genome medicine to data science by reaching over 1 million Americans. It is not certain that under represented populations will actively engage PMI and other NIH discovery science opportunities. This persistent lack of participation will likely exacerbate health disparities even in this new age of genome science and digital technology.
Our technology innovation is at the intersection of patient engagement, health systems and the community, three stakeholder pillars that are relevant to precision medicine and discovery science. Dr. Ofili will present new data on how and why traditionally under represented patients and minority research participants may or may not choose to actively participate in scientific discovery. Our research underscores the opportunity to effectively engage an increasingly diverse and mobile America in a new biomedical research landscape beyond the walls of the academic health system, to the communities where participants live, work, worship, and play.
This page was last updated on Wednesday, August 11, 2021