Elements of health and disease: inorganic fluxes and metal receptors that control cell fate decisions
DeWitt Stetten Jr. Lecture | to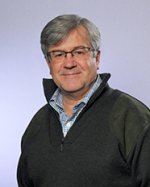 Thomas O'Halloran, Ph.D.
Morrison Professor of Chemistry and Molecular Biosciences
Director, Chemistry of Life Processes Institute
Associate Director of Basic Sciences
Robert H. Lurie Comprehensive Cancer Center
Summary
For the past three decades, Thomas V. O'Halloran has investigated how fluctuations in the amount of metal ions inside cells influence key cellular decisions. Using genetic, chemical, structural, and mechanistic approaches, he has uncovered new types of metal receptors and tied their function to a number of disease-related physiological processes. O'Halloran identified early examples of metal ion receptors called metalloregulatory proteins that regulate gene expression. He and his collaborators also discovered a second class of metal receptors called metallochaperone proteins that govern the flow of metals within the cell. The O'Halloran lab currently focuses on how intracellular fluxes of iron, copper, zinc, and other metals regulate pathways needed for cell growth and proliferation.
O'Halloran and his team have recently demonstrated essential roles for intracellular zinc fluctuations in mammalian oocyte maturation and fertilization. Using novel small-molecule probes as well as single-cell X-ray fluorescence microscopy, the research group established that the uptake of billions of zinc atoms regulates meiotic cell-cycle progression. In contrast, the researchers found that rapid zinc exocytosis events, triggered by fertilization and collectively known as "zinc sparks," must occur before embryonic development can proceed. These findings may one day be useful in improving in vitro fertilization methods.
Changes in metal ion concentrations also control fundamental developmental decisions in bacteria and disease-causing parasites, as reported by O'Halloran and his colleagues. For example, the invasion of pathogens that cause fungal brain disease and malaria depends on spikes in copper and zinc, respectively.
These insights into the inorganic chemistry of the cell have led O'Halloran's team to develop new therapeutic agents that selectively target metalloenzymes or harness the biological chemistry of nonessential metals such as molybdenum, arsenic, and platinum.
This page was last updated on Wednesday, August 11, 2021