Extracellular vesicles released by glioblastoma cells: saboteurs, biomarkers and therapeutics
to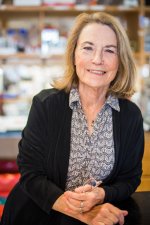 Xandra O. Breakefield, Ph.D.
Professor of Neurology, Harvard Medical School
Geneticist of Neurology
Massachusetts General Hospital
Summary
Xandra Breakefield, Ph.D. is a basic scientist with a strong background in molecular genetics and neuroscience. She focuses her research efforts on: gene therapy for neurologic diseases; and elucidation of the role of extracellular vesicles (EVs) released from cancer cells in tumor progression. She led early studies demonstrating mutant RNA in serum EVs from glioblastoma patients as biomarkers. She did her undergraduate work at Wilson College and her graduate work in Microbial Genetics at Georgetown University. She was a Postdoctoral Fellow with Nobel Prize winner, Dr. Marshall Nirenberg at the NIH. She is currently Professor of Neurology in the Neuroscience Program at Harvard Medical School and Geneticist in the Neurology and Radiology Services at Massachusetts General Hospital.
Professor Breakefield has received a number of awards for her work, including a McKnight Foundation Neuroscience Development Award, two Javits Neuroscience Investigator Awards, the Society for Neuroscience Mika Salpeter Lifetime Achievement Award, and the Harvard Medical School William Silen Lifetime Achievement Mentoring Award. She is a member of the National Academy of Arts and Sciences and past president of the American Society of Gene and Cell Therapy.
This page was last updated on Wednesday, August 11, 2021