A community approach to breast cancer prevention: addressing health disparities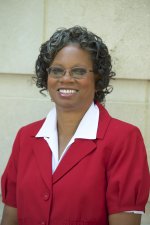 Lucile Adams-Campbell, Ph.D.
Professor of Oncology
Associate Director, Minority Health & Health Disparities Research
Summary
Dr. Adams-Campbell's areas of research focus on addressing health disparities with particular emphasis on cancers that disproportionately impact African-Americans. Dr. Adams-Campbell's research focuses on lifestyle interventions including physical activity, energy balance, obesity, metabolic syndrome, and oral health among minority and underserved populations. She has considerable expertise in cohort studies including the Women's Health Initiative and the Black Women's Health Study (which follows a cohort of African American women to gather epidemiological data on health risks and disease development). She also oversees the Capital Breast Care Center (CBCC), a community-based patient navigation program. Dr. Adams-Campbell is the Principal Investigator of a Center of Excellence for Health Disparities that focuses on metabolic syndrome and breast cancer risk in an exercise intervention clinical trial. She has more than 200 peer reviewed publications.
This page was last updated on Wednesday, August 11, 2021