Peering Beyond the Blindspot Seeking Authentic Risk Factors: A Case Study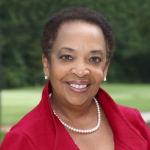 Eve Higginbotham, S.M., M.D., M.L.
Professor of Ophthalmology and Vice Dean for Inclusion and Diversity
University of Pennsylvania
Dr. Higginbotham is Professor of Ophthalmology and the inaugural Vice Dean for Inclusion and Diversity at the University of Pennsylvania. A member of the National Academy of Medicine, she is a practicing glaucoma specialist, has co-edited four ophthalmology textbooks, and has co-authored more than 150 peer-reviewed articles. As a Vice Dean, she is active in scholarship related to health policy, STEM, and patient care.
Summary
Dr. Higginbotham will discuss the arguments against "race," why this topic is important, and its impact on science and healthcare. In her case study, she will highlight the outcomes of a 20-year clinical trial that uncovered a new biologically measurable risk factor. This is intended to be a lecture that will inspire additional thinking around the use of race in science and medicine.
This page was last updated on Thursday, May 19, 2022