Heterogeneity of Breast Cancer Genomes: Going Beyond Therapy to Risk Assessment and Precision Healthcare
Marshall W. Nirenberg Lecture | to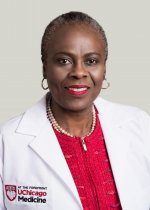 Olufunmilayo Olopade, M.D.
Associate Dean for Global Health
Walter L. Palmer Distinguished Service Professor in Medicine and Human Genetics
Director, University of Chicago Hospital's Cancer Risk Clinic
Dr. Olopade studies familial forms of cancers, molecular mechanisms of tumor progression in high-risk individuals as well as genetic and non-genetic factors contributing to tumor progression in diverse populations. Her current laboratory research is focused on using whole genome technologies and bioinformatics to develop innovative approaches to democratize precision health care for all and thereby reduce global health disparities. Dr. Olopade is an expert in cancer risk assessment and individualized treatment for the most aggressive forms of breast cancer based on an understanding of the altered genes in individual patients. She stresses comprehensive risk reducing strategies and prevention in high-risk populations, as well as earlier detection through advanced imaging technologies.
Summary
(This will be a hybrid lecture, in person at Lipsett Amphitheather and on NIH VideoCast.) Breast cancer is the most common cancer in women, with an estimated 2.3 million new cases diagnosed in 2021 worldwide. Geographic variations in age specific incidence and mortality point to differences in etiology. Decades after discovery, the estrogen receptor remains the single most important determinant of outcomes in breast cancer but innovative and precise biology-driven approaches to therapy are being integrated into clinical practice. Different patterns of molecular aberrations, clinical manifestations, and response to treatments are observed in diverse populations. Fundamental research in genetics and genomics has shed much light on the genomic basis of breast cancer heterogeneity. Work in our group has revealed population-specific differences in germline predisposition mutation frequency, common low-penetrance genetic variants, and somatic mutational landscapes and signatures. These reflect population differences in molecular subtypes. How germline genetics influence somatic mutations and the life history of individual breast cancer genomes can now be robustly examined. A deeper understanding of the contributions of "nature" versus "nurture" in disparities in breast cancer outcomes has enabled us to explore innovative interventions with potential to accelerate progress in precision oncology and promote health equity.
This page was last updated on Friday, May 20, 2022