Hematology from the Ground-Up: Lessons from Bloodless Worms
to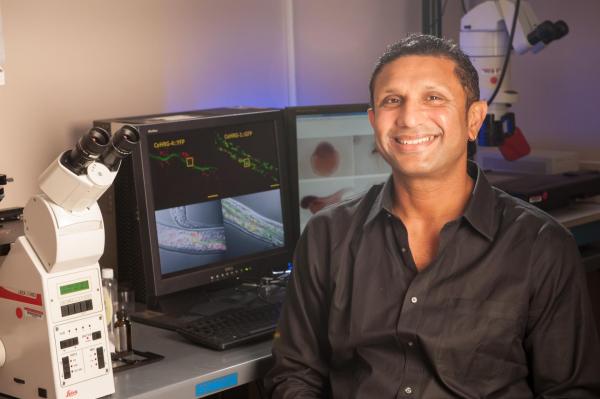 Iqbal Hamza, Ph.D.
Professor of Pediatrics, Center for Blood Oxygen Transport and Hemostasis (CBOTH)
University of Maryland School of Medicine
Prof. Hamza works at the interface of biochemistry, cell biology, and molecular genetics on fundamental questions related to iron and heme trafficking with implications in human health and disease. He is a Professor of Pediatrics at the Center for Blood Oxygen Transport and Hemostasis (CBOTH) at the University of Maryland School of Medicine.
Summary
Lecture Summary: "Our long-term objectives are to identify the genes and pathways responsible for heme transport and trafficking in eukaryotes that have remained poorly understood. Many have a preconceived notion that the bulk of heme biology is well-understood. How does heme, a cytotoxic hydrophobic ring with an iron atom, moves within and between cells? How does heme traffic across cellular membranes and get into hemoglobin? These open questions are enormous holes in our knowledge. The central thrust of our research is to uncover these pathways using a multi-organismal, multi-pronged approach. Our pioneering work with the invertebrate animal model C. elegans demonstrated that this roundworm is exceptional because it does not synthesize heme but rather utilizes environmental heme to manufacture heme-containing proteins that have human homologs. The presentation will highlight efforts in the Hamza lab to understand the mechanistic aspects of heme trafficking as well as how functional insights into these processes lay the groundwork for elucidating the molecular etiology of human disease and parasitic infections."
Lecture Objectives:
1. To explain the concepts of heme trafficking pathways in anemia and blood formation.
2. To value the foundational roles of simpler model systems in elucidating human diseases.
3. To discuss how fundamental discoveries can be exploited for drug development and antiparasitic therapeutics.

This page was last updated on Tuesday, November 1, 2022