Influenza Pathogenesis and Therapeutics in Vulnerable Populations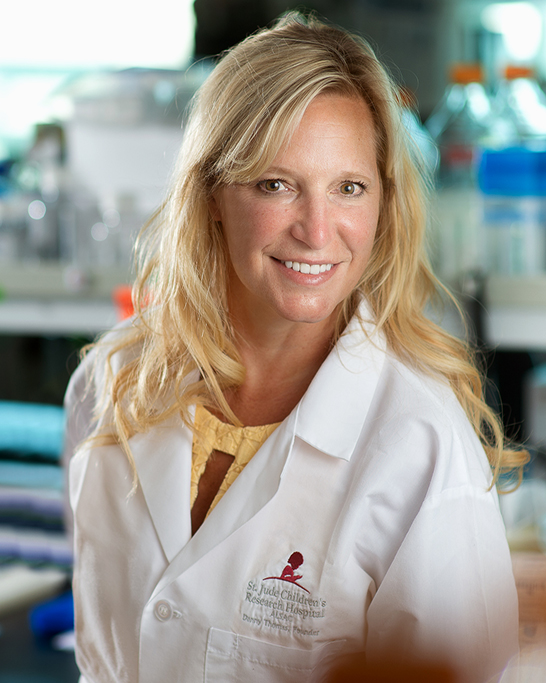 Stacey Shultz-Cherry, Ph.D.
Member, St. Jude Faculty
Deputy Director, World Health Organization Collaborating Centre for Studies on the Ecology of Influenza in Animals and Birds
Associate Dean, Student Affairs, Graduate School for Biomedical Sciences
St. Jude Children's Research Hospital
Stacey Schultz-Cherry, PhD, is a Full Member and Professor in the Department of Infectious Diseases at St Jude Children's Research Hospital in Memphis, TN as well as Senior Associate Dean for the St Jude Graduate School of the Biomedical Sciences. She serves as Co-Director of not only the Center for Excellence in Influenza Research and Response but also the Collaborative Influenza Vaccine Innovation Center, both research centers supported by the National Institute of Allergy and Infectious Diseases.
Dr. Schultz-Cherry received her PhD in Molecular and Cellular Pathology from the University of Alabama at Birmingham investigating extracellular matrix and growth factor interactions. After a short postdoctoral fellowship at the University of Wisconsin-Madison studying influenza virus-induced apoptosis and cellular responses, she served as a Lead Scientist at the U.S. Department of Agriculture Southeast Poultry Research Laboratory in Athens, GA, doing research on emerging highly pathogenic avian influenza viruses and astroviruses. She subsequently joined the faculty in the Department of Medical Microbiology and Immunology at the University of Wisconsin, Madison Medical School rising to become tenured Associate Professor before moving to St Jude in 2009.
Dr. Schultz-Cherry is recognized internationally for her studies on the pathogenesis of influenza and enteric viruses, especially astroviruses, in high-risk populations, and on the interactions of influenza viruses among different avian species and other animals and humans. She is the author and co-author of over 200 research articles, reviews, and book chapters and has lectured internationally. She has been a member of the editorial boards of several prominent journals including the Journal of General Virology, mBio, and Plos Pathogens and is now the editor-in-chief of the Journal of Virology.
Dr. Schultz-Cherry has served on the National Institutes of Health study sections and other of its institutional committees. She was elected President of the American Society for Virology in 2017, is the current chair of the Public and Scientific Affairs Committee for the American Society for Microbiology, and is an American Academy of Microbiology Fellow. Since 2012 she has been Deputy Director of the World Health Organization Collaborating Center for Studies on the Ecology of Influenza in Animals and Birds.
Summary
https://videocast.nih.gov/watch=51122
This page was last updated on Monday, August 28, 2023